Other Brands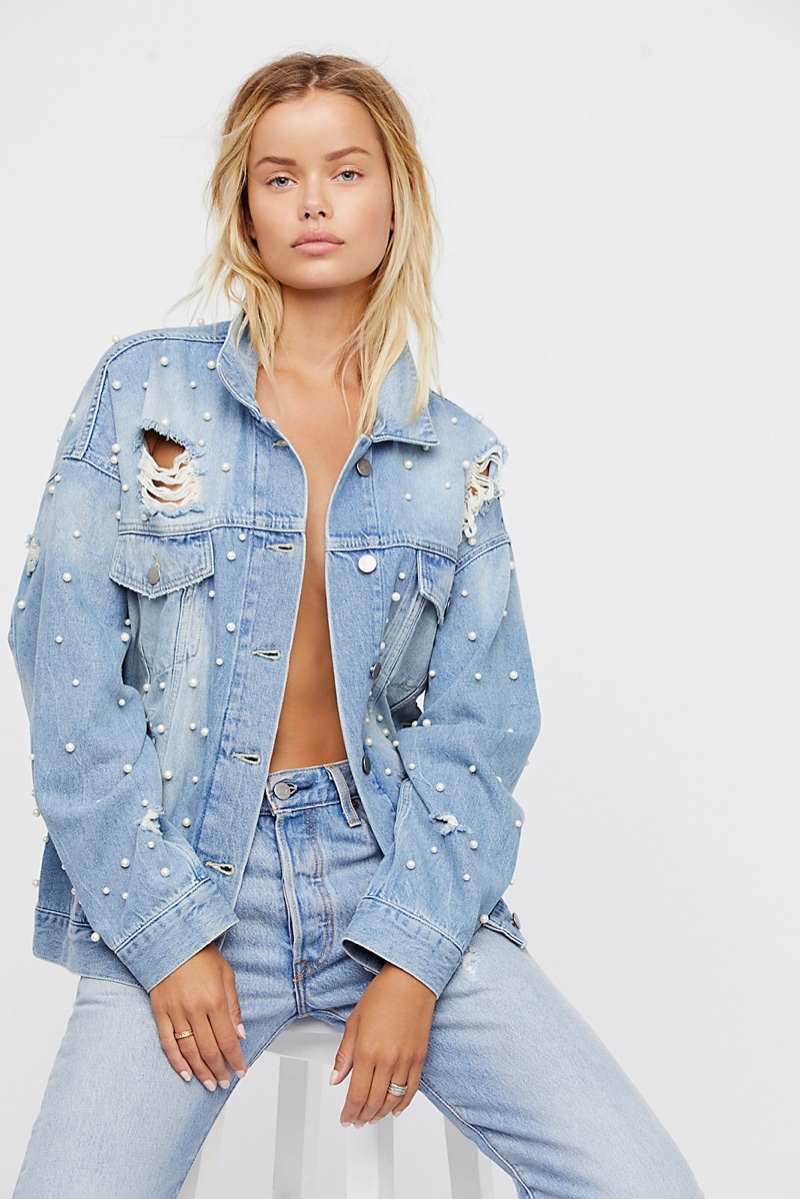 Denim never goes out of style, but every season you can always find new trends to follow. This summer, distressed denim is taking over and there are plenty of ways to wear this style. From baggy pants to bejeweled jean jackets and deconstructed designs, bring your denim game to the next level. Jeans like these can be worn so many ways with designs from ranging from luxury houses to mall brands. See four ways to wear distressed jeans this summer below.
EMBELLISHED DISTRESSED DENIM
The first trend we're looking at is embellished distressed denim. This season, designers add pearl accents to jeans and jackets for a glam update to the classic staple. But your denim does not just need to be decorated with jewelry. Floral embroidery or silver studs can also improve your look. We recommend pairing an embellished denim piece with a more minimal design. You never want your look to be too busy.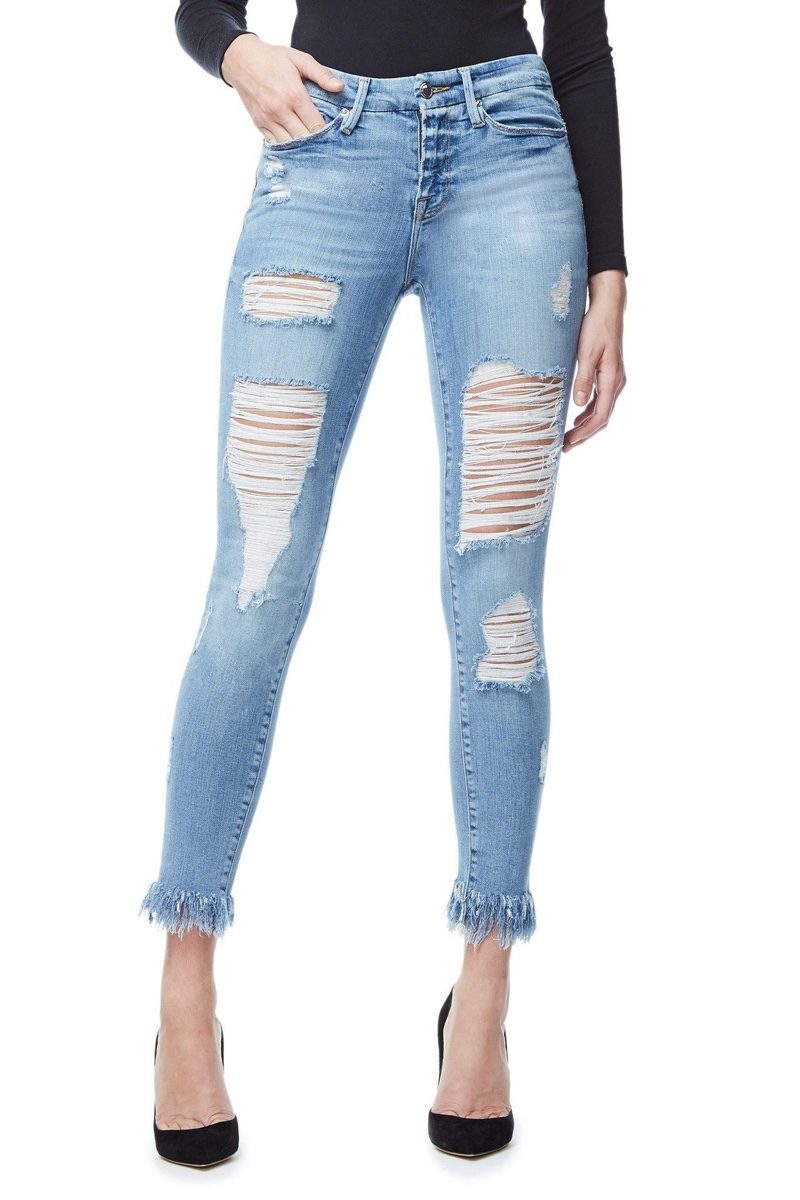 DECONSTRUCTED DENIM
Distressed denim is not only about ripping and holes, there's also deconstructed styles. The DIY details range from patchwork accents to fraying and asymmetrical silhouettes. From Japanese inspired jackets such as this one from Alexander McQueen to more casual pieces, deconstructed denim can really add a unique spin to any outfit. Make sure to keep true to your personal style by looking for a flattering fit.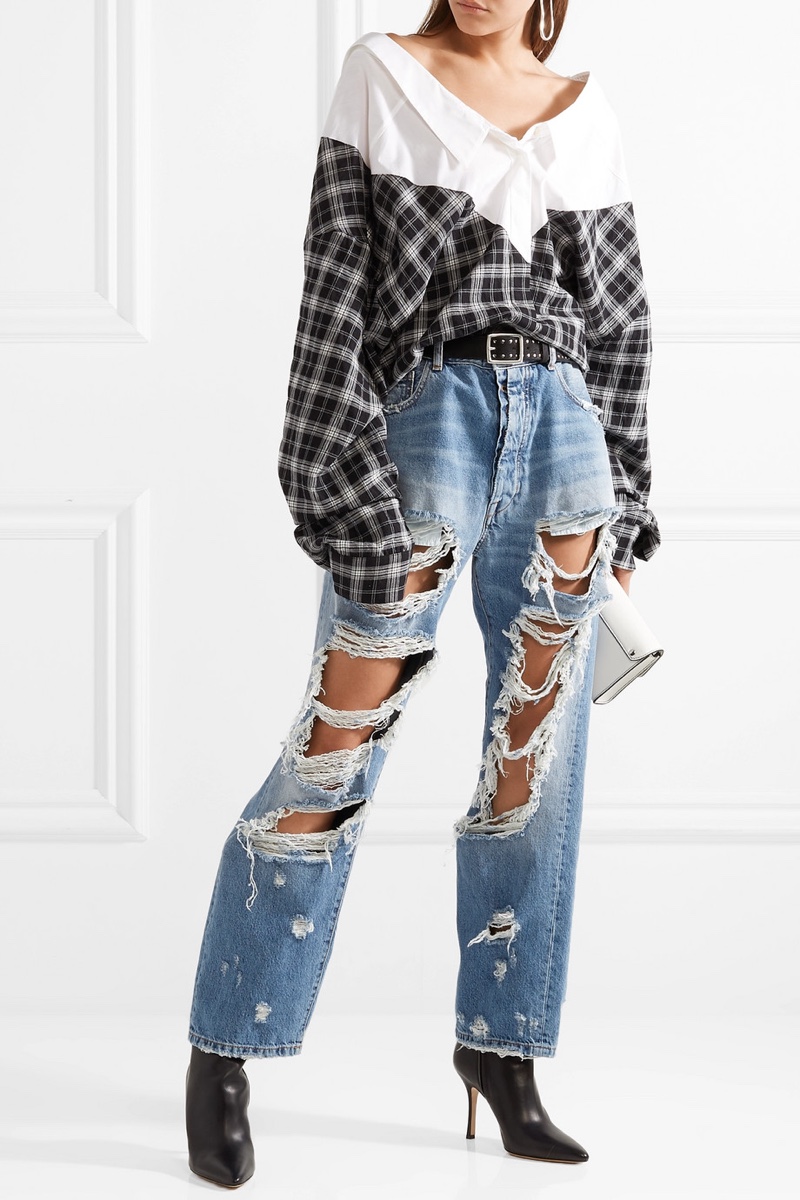 BAGGY DISTRESSED DENIM
The 1990's have returned in a major way, and when it comes the denim, baggy jeans could not be any more retro. A distressed style paired with an oversized silhouette will definitely make you stand out from the crowd. We recommend wearing a baggy jean style with a fitted top. When both your top and pants are baggy, it can make you look wider. When it comes to having the perfect outfit, it's all about having the right proportions.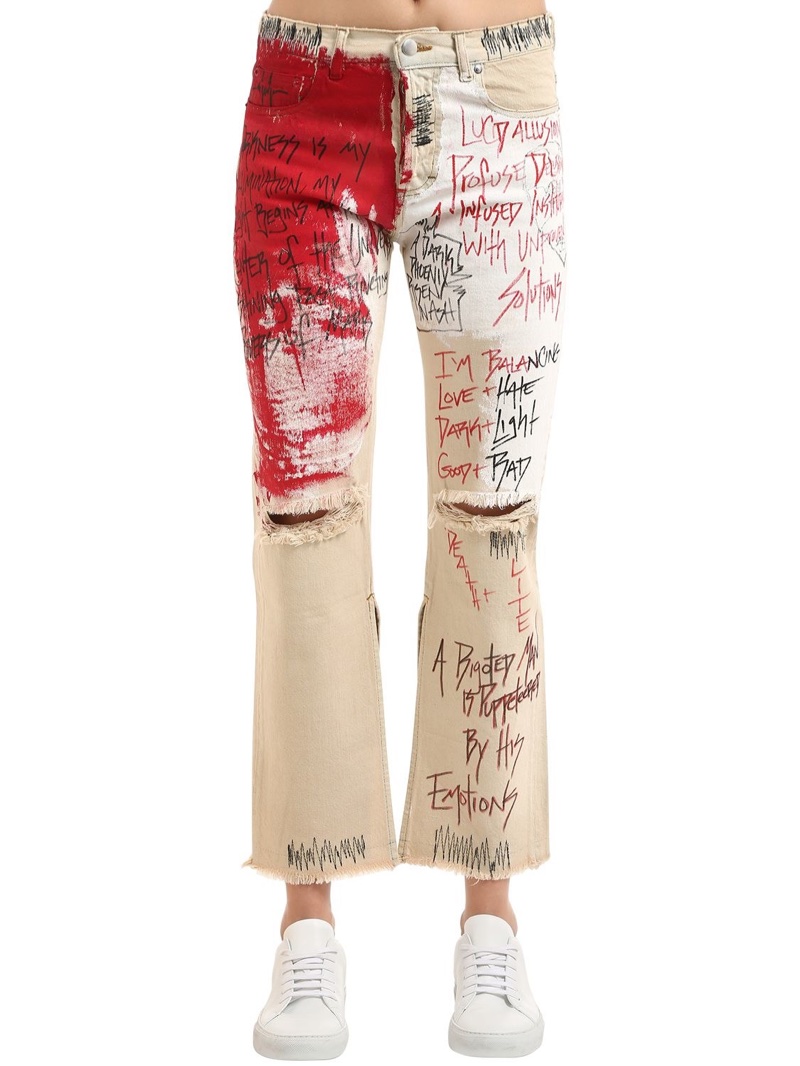 PAINT SPLATTERED DENIM
Last but not least, we take a look at paint splatter denim when it comes to distressed styles. You may have seen this look on the runway, and now you can have it in your closet. Whether decorated with pants, jackets or skirts, it's an easy way to add some color to your look. Paint splattered denim is also a great way to show off your artistic side. If you can't find a style you like in stores or online, take an old denim piece and "paint" it yourself.
So there you have it–four great ways to wear distressed denim this summer. Which trend are you excited to try?
Other Brands

Other Brands
osie Huntington-Whiteley lands the June-July 2018 cover of Harper's Bazaar Australia. Photographed by Darren McDonald, the British beauty wears a printed dress from Alexander McQueen. In the accompanying spread, Rosie poses in looks from the pre-fall collections. Stylist Kristen Ingersoll selects designs from labels such as Dior, Emporio Armani and Calvin Klein.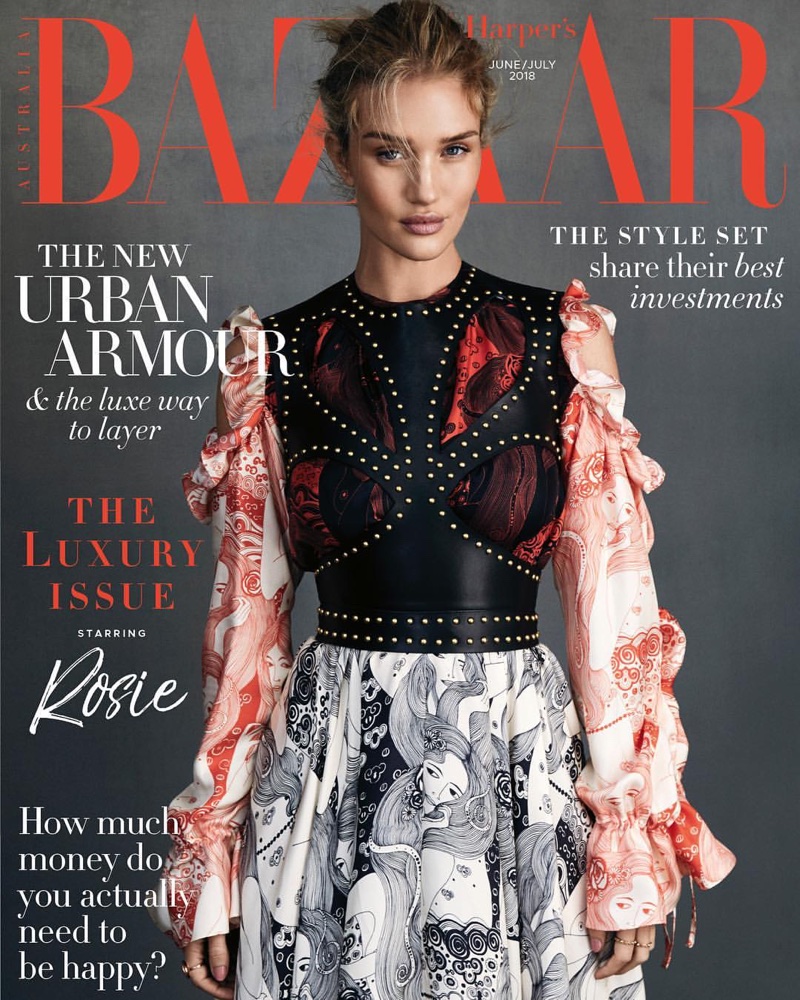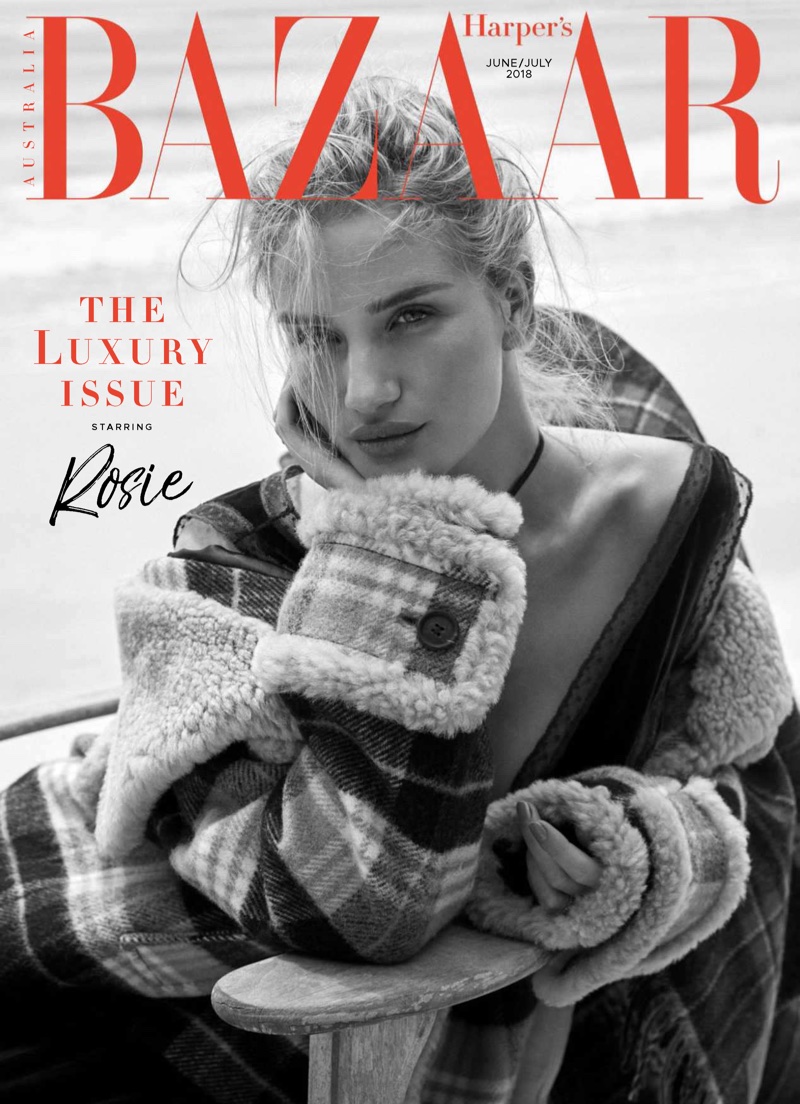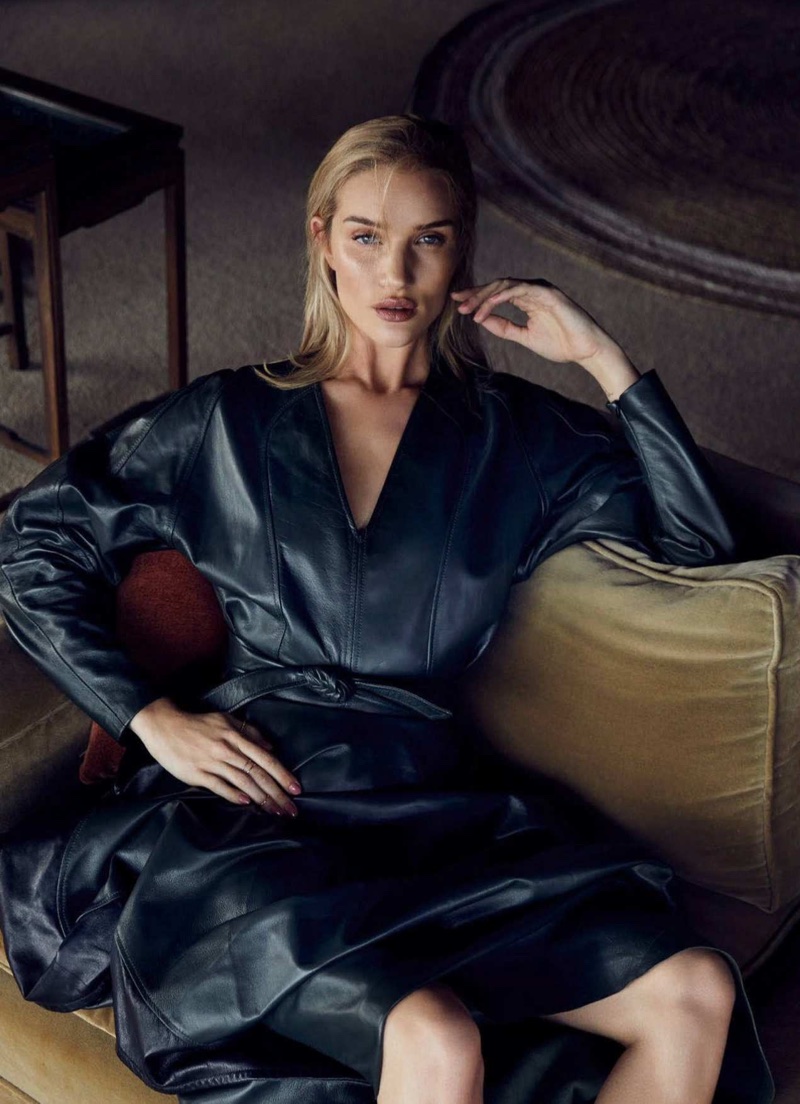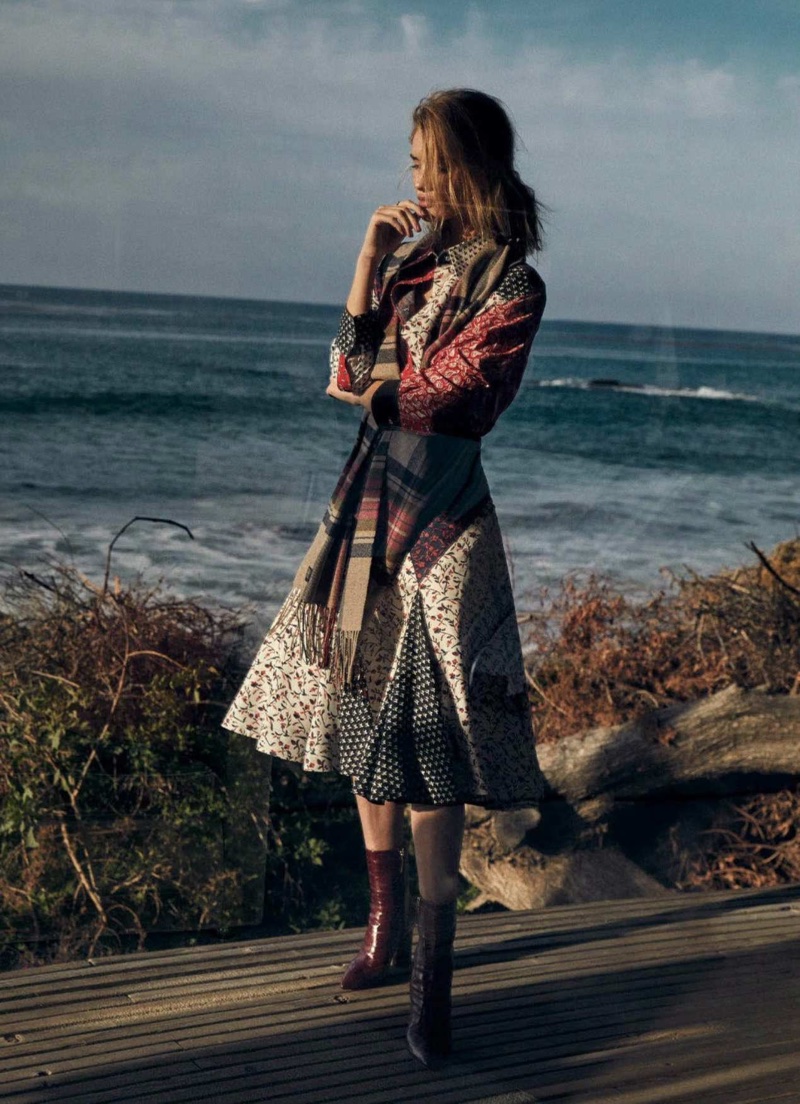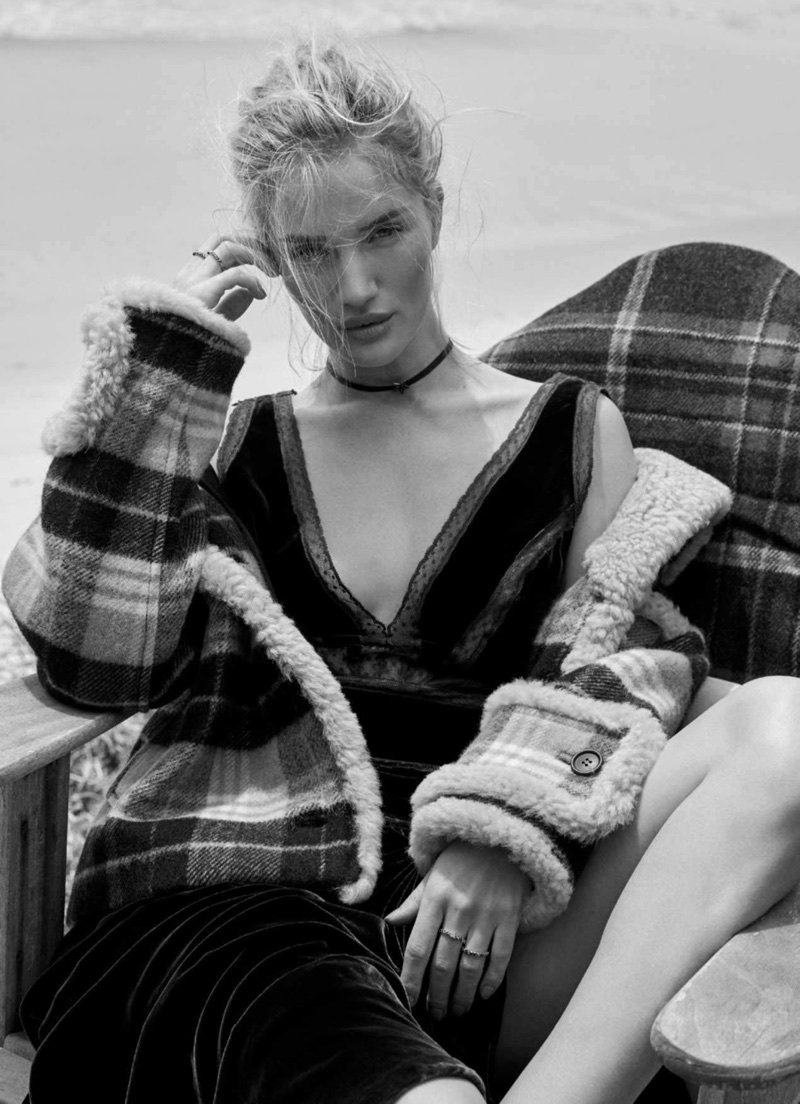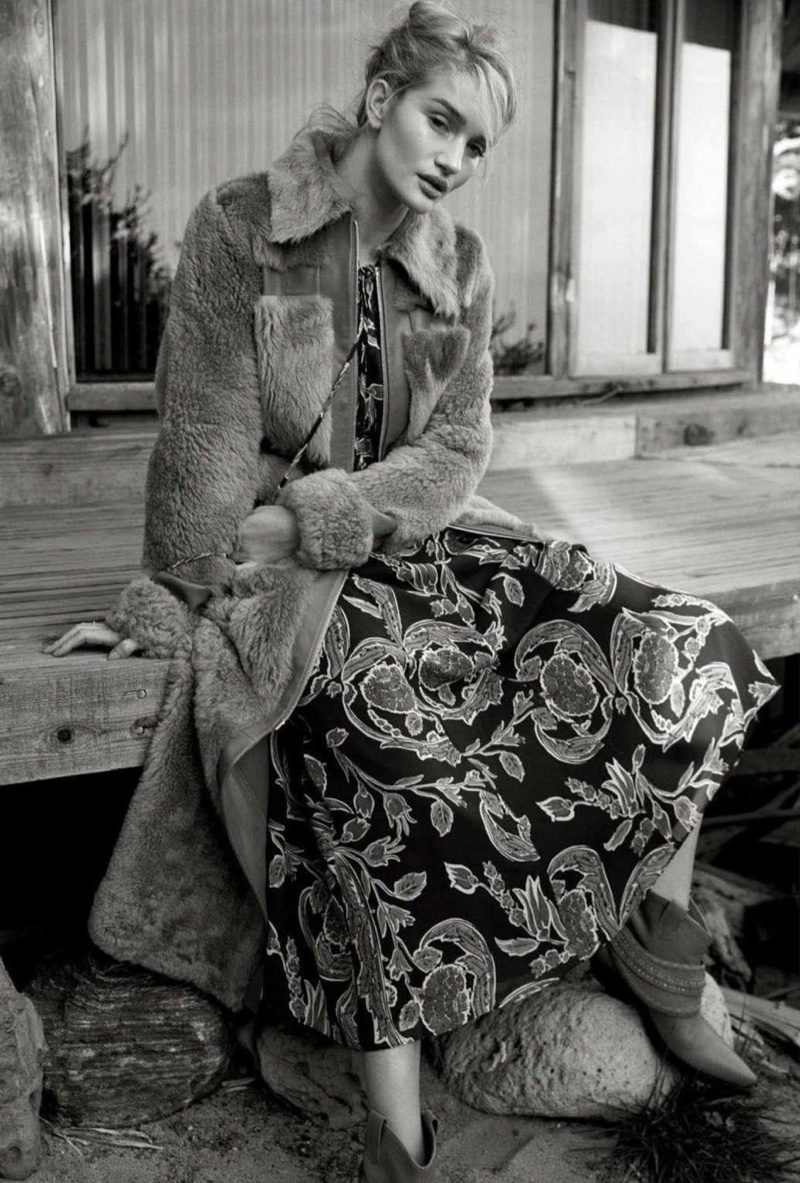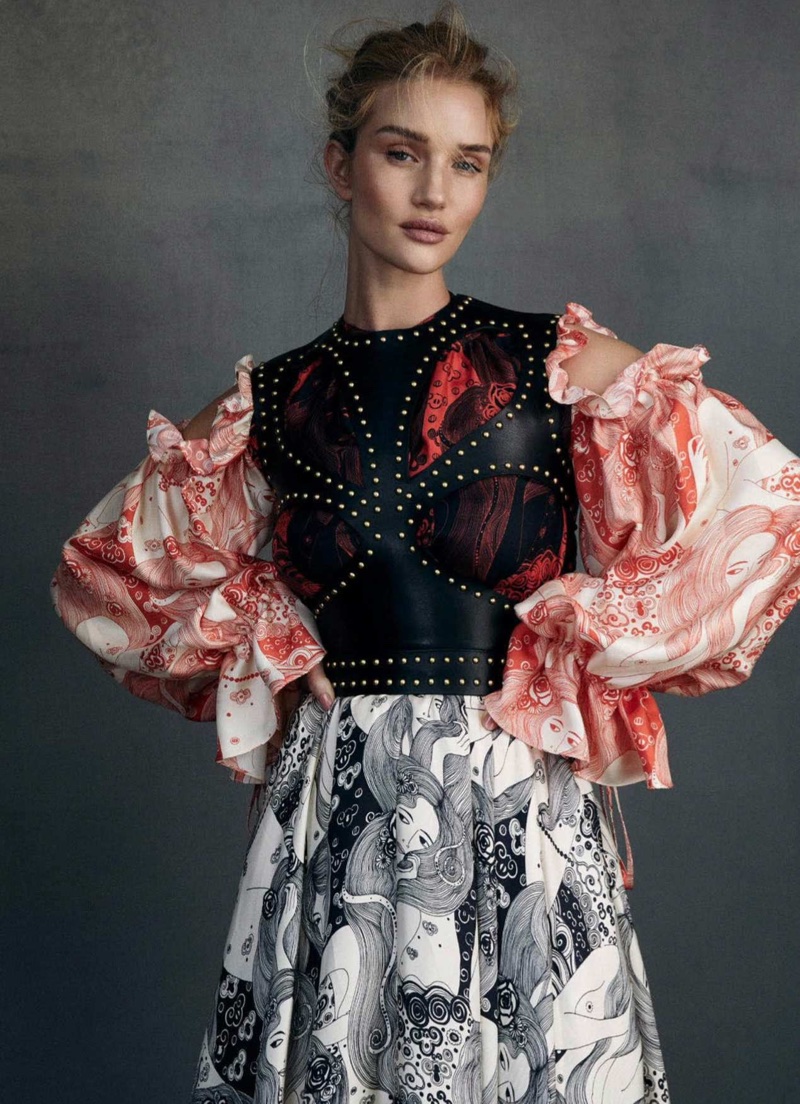 Other Brands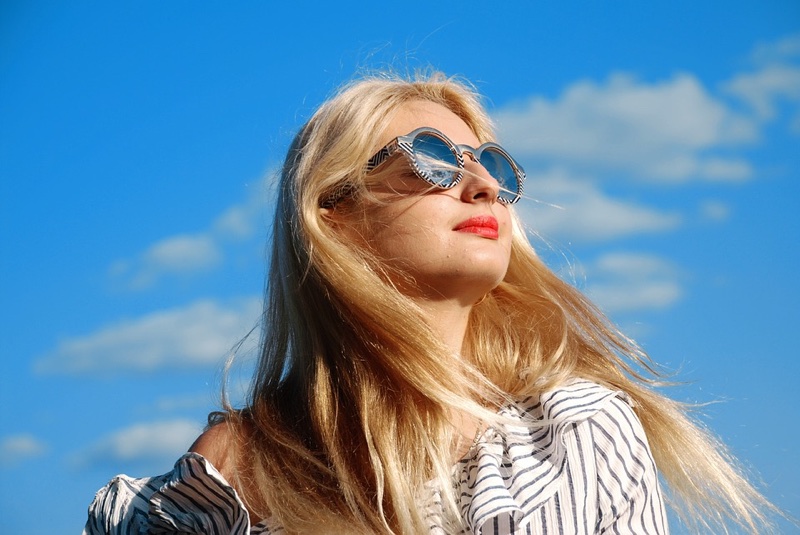 The world of fashion has changed and it's no longer the top design houses in London, Paris, Milan or New York people turn to when they want to know what they should be wearing this season.
Fashion forecasters and bloggers can have more influence, but who actually decides what will be fashionable this year? Also, how influential are fashions and trends in areas other than the clothes industry?
INFLUENCERS AND FORECASTERS HELPING FASHION HOUSES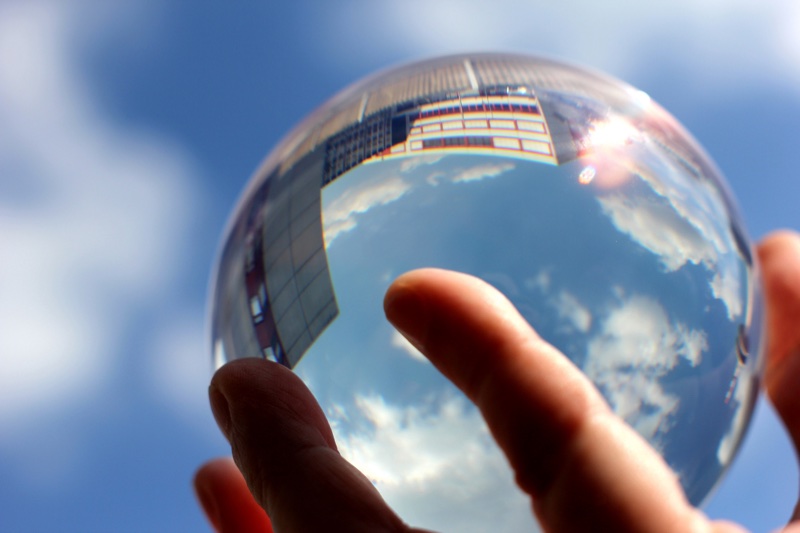 'Crystal Ball/Glaskugel' – Christian Schnettelker via Flickr (CC BY 2.0)
When top fashion houses release a new collection, they have the power of online influencers and forecasters to help them get it into the public domain. Many of the influencers are celebrities who can have many millions of followers on social media. The forecasters follow trends and try to fathom what will be fashionable next year and beyond. The fashion houses use the services of both to try and be the one who comes out on top in the fashion world.
FASHION IN GAMING
Clothes are not the only area where things go in and out of fashion. Online slots can be fashionable, as can adventure games and the platforms they are played on. For example, Mermaid's Diamond and Pink Elephants were chosen by SlotsOnlineCanada as two of the top 5 most fashionable slots – both in terms of appeal and of graphics. In the area of consoles, things are similar. One month the Xbox will outsell the PlayStation, and the next it can be the other way round. The digital devices that online casinos are played on can be just the same, although overall it seems that iPhones are leading the fashion in smartphones at the moment.
HOUSEHOLD FASHIONS
Household fashions change all the time. You will know from visiting other people's houses how different furniture, curtains, and accessories can be. This is not just because of personal taste but because the retailers change what they are selling as the fashions in household goods change.
Homes used to be very cluttered, with walls full of pictures and every little bit of floor space used. These days the fashion is to have a cleaner and sharper feel to your rooms, with much less in them. Even with the items of furniture you do buy, fashions alter all the time.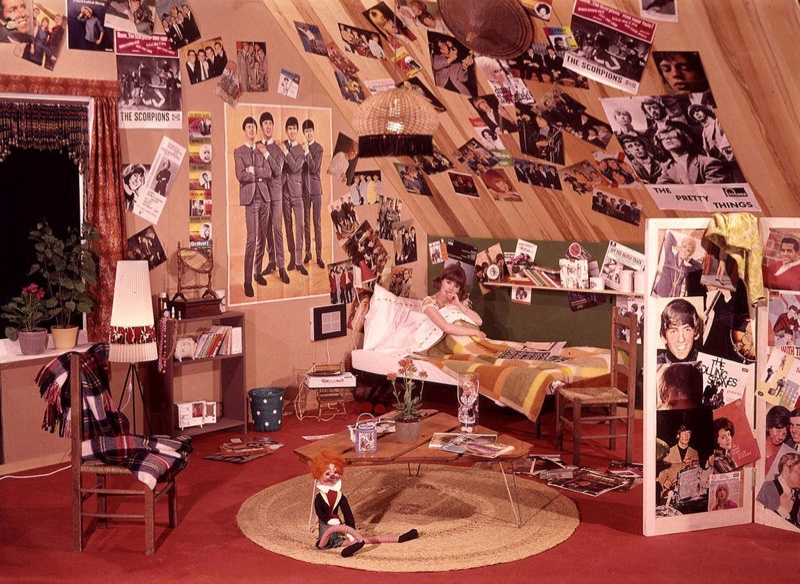 'memories of the Sixties' – Paul Townsend via Flickr (CC BY-SA 2.0)
FASHIONS AND TECHNOLOGY
We all have some sort of technology, whether in our homes or at work. There are our computers and other digital devices, just for starters, and then things like TVs and other electrical items. Some of them may be old technology by today's standards, but they are technology non-the less. New innovations are being produced by developers every day, and as soon as something proves to be very useful or relaxing for users, it does not take long for it to become fashionable. The problem with technology is that it's evolving at such a pace that often products are at the front of the field for a very short time as something new quickly surpasses them.
CHANGING MOODS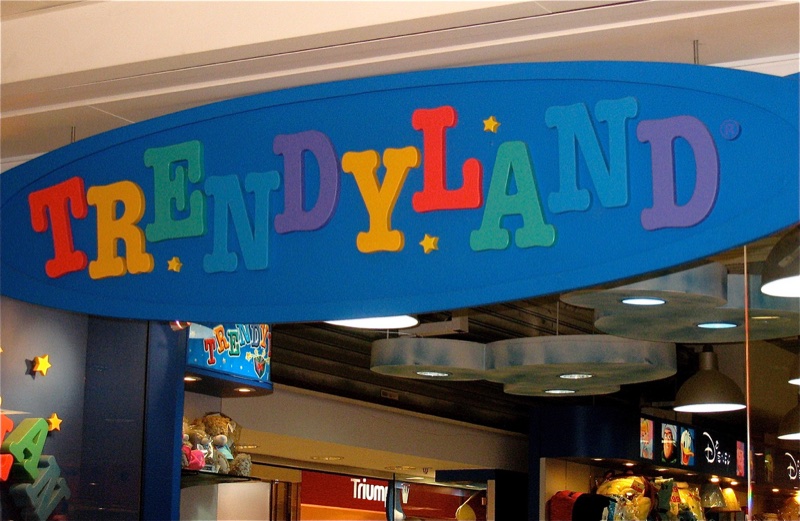 'Where All The Cool Trends Come From' – Alan Levine via Flickr (CC0 1.0)
Fashions in all parts of our lives have altered beyond what we could have imagined just a few years ago. Look at music, films, or jewelry from a few years ago and it will all seem very dated. Although some things occasionally come back into fashion, most things seem to be changing as often as our moods. That could be because marketers and producers watch out for the mood of the public, and pitch their sales promotions to suit them.
Other Brands
Oh My! Fashion and Art has crossed again at the house of Louis Vuitton. Have you ever heard about the Trompe L'oeil? It's a well-known art technique in France. And Louis Vuitton has blended this technique with their iconic handbags for the Spring Summer 2018 Collection. In this post we will be talking a bit about the story of the Trompe L'oeil art as well as the design. And by the way, this line is called the Louis Vuitton Trompe L'oeil Screen Bag Collection.
The Design
What is the Trompe L'oeil? It means in French 'Deceive The Eye'. Trompe L'oeil is an art technique that transforms a realistic image into an optical 3D illusion. And this technique has been used re-designed the iconic handbags with trunk detailing, which is basically a print, but the purpose is to deceive the eye in thinking that they're real pieces.
Now, take a better look at these handbags. Can you see the trunk corners and the historic Louis Vuitton locks? They're all screen prints, but they're very clever designed. The print also features the Louis Vuitton travel badge and the LV logo.
What's more? These bags are beautified with Damier Azur coated canvas or Monogram Canvas, which is an iconic piece. And we'd know that they're limited edition piece and only seasonal available. Once the season ends, these bags will be gone forever. If you want a flaunting iconic piece, then perhaps its time to make the investment.
The Prices And Sizes
Louis Vuitton Trompe L'oeil Screen Neverfull MM Bag
Size: 12.5' x 11.5' x 6.5' inches
Prices: $1750 USD, $2230 CAD, €1310 EUR, £1220 GBP, $14500 HKD, $2400 AUD, ¥207360 JPY, 13400 CNY.
Louis Vuitton Trompe L'oeil Screen Speedy 30 Bag
Size: 11.8' x 8.3' x 6.7' inches
Prices: $1920 USD, $2340 CAD, €1370 EUR, £1280 GBP, $15800 HKD, $2510 AUD, ¥226800 JPY, 14800 CNY.
Louis Vuitton Trompe L'oeil Screen NeoNoe Bag
Size: 10.2' x 8.7' x 1.8' inches
Prices: $1950 USD, $2410 CAD, €1400 EUR, £1300 GBP, $16200 HKD, $2560 AUD, ¥231120 JPY, 15100 CNY.
More Images And Colors
Other Brands
Classic Fringes, Frosted tips, Wavy brows, Ombre lips. There are iconic beauty trends every year and this 2018 you can be part of the trends everyone is talking about. We all want to know what the year will bring for beauty trends, whether you are a beauty guru with the perfect contour guide or an amateur artist who loves experimenting with your own look. Trying out the new creations which have found their way onto the red carpet can not only be fun and exciting, but can no doubt make you feel like a celebrity yourself. Explore the beauty trends on everyone's lips without the premium price tag.
SUBTLE SHINE & SHIMMER
This year the sparkled and glitter are getting a revamp, with subtle shimmer and shine taking the stage. From gloss to shadow, shine and shimmer make up adds a hint of glamour without going over the top. London Fashion Week saw gloss and shine emerge as a prevalent trend, and appears to be the next evolution in highlighting and contouring too. However, adding some shine to your makeup bag doesn't have to cost a fortune, with NYX Professional Makeup Shimmer Eyeshadow Pigments for just £5.50 from boots.
GET THE FRESH-FACED LOOK
This year we are starting to see the disappearance of caked on foundation and the emergence of the "natural look". Not only on the outside but the inside too, as more people are preparing to get makeup which causes less harm both environmentally and physically, with many brands being exposed for containing harsh chemicals and parabens. Ethical, organic and chemical free makeup brands are not only hard to find but can be pricey too, so try exploring the exciting world of voucher code shoppingand find brands such as Neals Yard Remedies, The Body Shop and Green People at a fraction of the usual price.
HOTTEST HAIR MUST HAVES
Statement hair was iconic for the 2018 London Fashion Week, with Vogue exploring the prevalent braids, ponytails and eccentric cuts. Although cutting your own hair isn't advisable, there are a few key ways to save on styles such as the volumous ponytail and romantic French braids. With a huge range of YouTube videos dedicated to teaching everyone from beginner to expert, giving it a go on your own is a great way to save on the cost of a stylish do. Save on keeping your hair looking just right with homemade hairspray and avoid all the hidden chemicals in common brands.
ADD A SPLASH OF COLOUR
With celebrities such as Adele sporting the "Splash of Colour" trend with a bright and bold lipstick, this beauty trend is sure to stay for 2018. Whether it's bright red lips or bright pink nails, adding a bold colour to a natural beauty look has been a favourite trend throughout the last year, and It thankfully doesn't show any signs of disappearing any time soon. However, although the celebs were rocking this beauty trend at the Brit Awards, you don't need to have a celeb salary to add some colour to your look. With shops such as Fragrance Direct offering bold lipsticks from just £2.50 plus multi-buy savings, you can add a hint of colour for much less.
The top beauty trends for 2018 incorporate natural beauty with subtle shimmers and cleansers with bold statement elements such as eccentric hair and splashes of primary colour. Gaining inspiration from London Fashion Week and celebrity styles on the red carpet, you can experiment with your look and get the fresh faced, iconic style at a fraction of the usual price. Alternatively, you can ignore all the trends and look however you want and probably save a fortune; but where's the fun in that?
Designer Bags, Wallet, Purse, Belt & Accessories Official Site, Best Price & Quality, Free Worldwide Shipping, Free Returns. Each Bag Is A Work Of Art - Handmade - Cowhide Art - Can Custom-Made

Categories

New Posts

Hot Posts